What is Luxury Vinyl Flooring?
Luxury vinyl flooring is a popular up-and-coming flooring option currently available to homeowners like you. Luxury vinyl has become so popular due to how versatile it can be. We know choosing the right floor for your home can sometimes be hard, so at Columbia Rug Carpet One Floor & Home, we are your local neighborhood experts here to help you. Let us take a look at some of the features and benefits of luxury vinyl flooring.
Is Luxury Vinyl Flooring Waterproof?
Luxury vinyl has the ability to resemble hardwood and stone flooring due to its innovative digitally printed image layer. You can find luxury vinyl in multiple styles that each mimic a specific type of wood or stone material not only by the way it looks but also how it feels in plank or tile versions. It is the budget-friendly option for those who are renovating their home, and is very easy to install.
Wood Look Vinyl
You not only get the look and feel of hardwood or stone floors, but luxury vinyl is more forgiving underfoot because it gives a little when you walk on it. Some luxury vinyl manufactures make their floors water proof, and some options are more scratch and scuff resistant than others. Luxury vinyl floors are easy to maintain, and just need to be regularly swept.
Be sure to visit our Columbia Rug Carpet One Floor & Home showroom in Peoria, IL and speak with a flooring expert about installing luxury vinyl floors in your home.
About Luxury Vinyl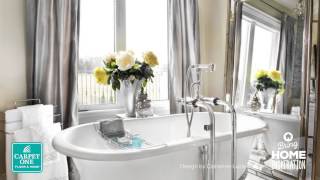 Luxury Vinyl Flooring in Bathrooms
Luxury vinyl flooring is incredibly durable, which makes it the perfect flooring option in bathrooms.
Luxury Vinyl Flooring in Bathrooms
Living Room Flooring Options
Not many homeowners realize that you can use luxury vinyl as an alternative to hardwood in your living room. It looks just a beautiful but has the extra added durability you want and need.
Living Room Flooring Options
What are the Types of Vinyl
Not all vinyl is made the same, just like your home isn't the same as everyone else's. While traditional sheet vinyl is still available, luxury vinyl is a more popular option. Homeowners have been leaning more towards luxury vinyl options like planks and tiles. Follow the link below to learn more.
Vinyl Types